Improving maximum strength to the entire body involves great planning as well as consistency. Because you are trying to improve your body's ability to create internal tension to overcome an outside load (pushing off the court), it is extremely important that you choose the appropriate exercises (squats, cleans, dead-lifts etc.) as well as the appropriate To increase strength, perform these exercises for 4-5 sets of 1-5 repetitions, moving through the exercise as fast as you can control the weight. For example, a squat is a great strength exercise for the entire body however, if you are squatting with a load you can perform for more than five reps, you may not be getting the return you desire from your training goal of increasing strength. If this is the case, increase the weight about 5-10 pounds in increments until you reach a weight tht you can lift only 5 times.
Continue Learning about Volleyball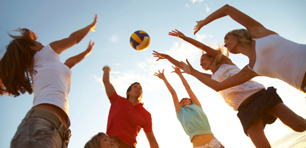 Volleyball is a team sport that involves cardiovascular endurance, agility, and hand-eye-coordination. Lateral movements, foot speed, and hip rotation are all important skills to possess. Proper elbow and knee-pads can help limit ...
injuries.
More