A failure to stretch before or after playing volleyball can lead to muscles imbalances, which can result in injury. Muscle imbalances alter the way your body moves, putting more stress on your joint and tendons and ligaments. Over time, this excess stress and altered movement can begin to cause pain, limit activity and lead to more severe injuries. Stretching helps to reset your muscle lengths, keeping your body in optimal alignment.
Continue Learning about Volleyball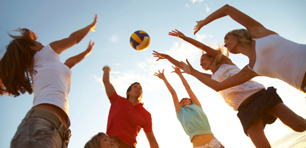 Volleyball is a team sport that involves cardiovascular endurance, agility, and hand-eye-coordination. Lateral movements, foot speed, and hip rotation are all important skills to possess. Proper elbow and knee-pads can help limit ...
injuries.
More