The pre-season is often when the coach is developing the roster as well as the plan of attack. A great coach will allow players to showcase their strong points while exploiting their weaknesses. This not only allows the coach to position the players accordingly, it will help them devise a strong performance program understanding the areas of concern.
Continue Learning about Volleyball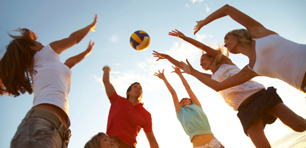 Volleyball is a team sport that involves cardiovascular endurance, agility, and hand-eye-coordination. Lateral movements, foot speed, and hip rotation are all important skills to possess. Proper elbow and knee-pads can help limit ...
injuries.
More