To strengthen your ankles for volleyball, engage in movements that challenge the foot and ankle in an unstable and dynamic environments. The single-leg toe touch is great for stability of the foot, ankle, knee, hip, and core. To perform this exercise, begin standing on one leg. Squat down, slowly touching your toe with the opposite hand; if you stand on the right leg, touch the right toe with the left hand. Repeat this exercise for two to three sets of twelve to twenty repetitions. Next, use a dot-drill mat. This is a rubber mat that has several colored dots on it. You use this mat by hopping in various patterns such as zig-zags or side-to-side movements. These two exercises are staple activities with court athletes and have kept them ready to perform at their best.
Continue Learning about Volleyball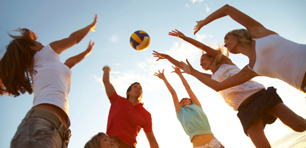 Volleyball is a team sport that involves cardiovascular endurance, agility, and hand-eye-coordination. Lateral movements, foot speed, and hip rotation are all important skills to possess. Proper elbow and knee-pads can help limit ...
injuries.
More