Perform your shoulder strengthening exercises in a controlled, unstable environment, such as with a Swiss ball or stability disc, while using very slow tempos. This will allow you to work the core muscles as well as improve the overall endurance of the shoulder muscles. For example, you can perform a traditional dumbell shoulder press, but perform it on a single-leg or a wobble board. Or you can try a overhead military shoulder press lying face down on a stability ball. Both of these exercises are important for the endurance of your shoulders and performing them consistently will help you achieve success.
Continue Learning about Volleyball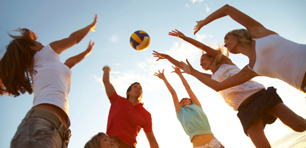 Volleyball is a team sport that involves cardiovascular endurance, agility, and hand-eye-coordination. Lateral movements, foot speed, and hip rotation are all important skills to possess. Proper elbow and knee-pads can help limit ...
injuries.
More