The goal is to improve shoulder endurance, so use a medium tempo for three sets of 8-12 repetitions on the stable movement and a slow tempo for three sets of 12-20 repetitions on the unstable movement. Begin with a machine shoulder press followed immediately by a single-leg dumbbell lateral raise (standing on one leg and dumbbells at side then raise arms with palms down ending at shoulder height). Once three sets are completed here, perform dumbbell shrugs (dumbbells at sides, elevate shoulders up towards the ears) followed immediately by a prone ball shoulder press (lying face down on a ball press dumbbells over head). Perform this program two to three days per week.
Continue Learning about Volleyball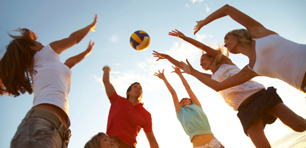 Volleyball is a team sport that involves cardiovascular endurance, agility, and hand-eye-coordination. Lateral movements, foot speed, and hip rotation are all important skills to possess. Proper elbow and knee-pads can help limit ...
injuries.
More