Strength exercises which target the major muscle groups (chest, back, shoulders, and legs) should be used when you are trying to increase strength for volleyball. Incorporate exercises that mimic the sequencing and timing of volleyball-specific movements such as a serve, lunge, and rotational movement. An exercise that has great carry over to the serve is the power clean. This movement requires high levels of core strength, total body strength, and power. A clean consists of three phases: the squat phase (holding bar in front at thigh height, athlete squats), bump phase (athlete lightly bumps bar on hips when transitioning from squat), and the catch phase (athlete catches bar at chest height). It is important to meet with a coach or performance specialist to fine tune your technique.
Continue Learning about Volleyball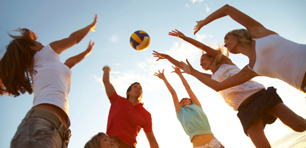 Volleyball is a team sport that involves cardiovascular endurance, agility, and hand-eye-coordination. Lateral movements, foot speed, and hip rotation are all important skills to possess. Proper elbow and knee-pads can help limit ...
injuries.
More