SAQ exercises for lateral movement include speed skaters and cross-over-plant-returns. To begin performing the speed skater movment, place two cones approximately five to six feet apart depending on your height. From left to right, begin by standing just inside the left cone standing on your left leg with the knee slightly bent. Keeping the belly button in, push the hips down and back and drive off the left leg landing softly on the right. Once you have landed on the right leg, squat down and with your left hand touch your right toe, then repeat for 10-15 repetitions or a set amount of time. This exercise is not only great for lateral movement but it will help with stability at the hip and ankle reducing your risk of injury. To begin the cross-over-plant-return, you can use the same cone set-up as for the speed skaters however, stand in an athletic position in the center. With your belly button drawn-in, begin by bringing the right leg up and across the standing left leg. Once the right foot hits the ground, move the left leg out and to the left, plant off the left leg and reverse the movement back to the starting position; repeat the sequence to the right. These exercises should be done as quickly as possible with good control. Perform these exercises two to three days per week during the pre-season then regress the volume by doing them on only one to two days during the season.
Continue Learning about Volleyball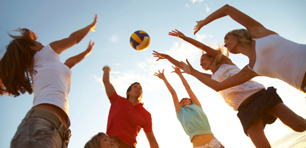 Volleyball is a team sport that involves cardiovascular endurance, agility, and hand-eye-coordination. Lateral movements, foot speed, and hip rotation are all important skills to possess. Proper elbow and knee-pads can help limit ...
injuries.
More