When increasing strength throughout your entire body, the power clean can provide the greatest return on your timne spent training. Not only does this total-body movement require you to stabilize your entire body side-to-side, front-to-back, and with rotation, the sequencing from the initial firing of the core muscles, to the legs, ground, and back up through the arms is identical to the mechanics of a serve. It is a good idea to consistently incorporate this exercise into your training program after you have established proper levels of stability and strength.
Continue Learning about Volleyball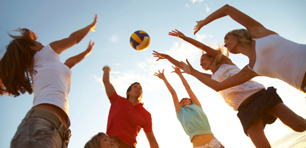 Volleyball is a team sport that involves cardiovascular endurance, agility, and hand-eye-coordination. Lateral movements, foot speed, and hip rotation are all important skills to possess. Proper elbow and knee-pads can help limit ...
injuries.
More