Volleyball blockers should choose speed ladder drills such as the icky shuffle, swizzles, and speed skaters. These drills will help you train for lateral movement, foot speed, hip rotation and changes in level allowing you attain optimum performance for your position. To perform the icky shuffle move side-to-side crossing a speed ladder. To perform swizzles, stand to the side of a speed ladder and face the squares. Begin with one foot in and rotate the hips placing the opposite foot in the square. To perform speed skaters, use the same movement as the icky shuffle and include an opposite hand toe-touch.
Continue Learning about Volleyball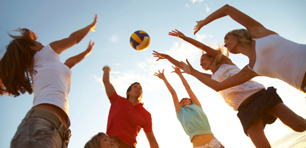 Volleyball is a team sport that involves cardiovascular endurance, agility, and hand-eye-coordination. Lateral movements, foot speed, and hip rotation are all important skills to possess. Proper elbow and knee-pads can help limit ...
injuries.
More