To strengthen the shoulders for volleyball, begin with a total body strength exercise which involves both the lower body as well as the upper body. An example would be a squat, curl, press (holding dumbbells at the side perform a squat, followed by a biceps curl and ending with a shoulder press). Next, perform a seated machine shoulder press for 8-12 repetitions at roughly seventy-five percent of your single repetition maximum (this is the weight at which you can lift up to 12 repetitions but not any more than that). Finish with a standing dumbbell Arm V Raise (standing upright with dumbbells at side then bringing them up at a 45-degree angle, finishing at shoulder height). This program will result in high levels of strength that are needed in order to withstand the reaching, serving, and controlled passing during game time.
Continue Learning about Volleyball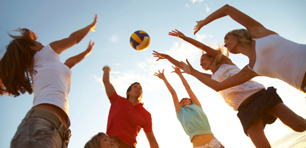 Volleyball is a team sport that involves cardiovascular endurance, agility, and hand-eye-coordination. Lateral movements, foot speed, and hip rotation are all important skills to possess. Proper elbow and knee-pads can help limit ...
injuries.
More