Absolutely not. Remember that cardiovascular training is used to improve areas such as buffering, producing less lactic acid, overall endurance, as well as helping you recover from hard practices. If getting bigger and stronger is your primary concern, implement a performance program that works on core strength, balance strength, plyometric strength, as well as hypertrophy (larger muscle size), maximum strength, and cardiovascular exercises. Then, find out how many total calories you need to eat in order to supply your body with the appropriate amount of energy as this will help you increase size and recover quickly, leaving you ready for the next practice. Avoiding cardio all together may actually hinder your performance and make it difficult for you to recover appropriately.
Continue Learning about Volleyball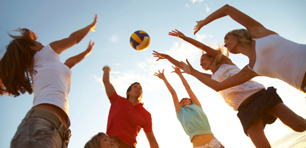 Volleyball is a team sport that involves cardiovascular endurance, agility, and hand-eye-coordination. Lateral movements, foot speed, and hip rotation are all important skills to possess. Proper elbow and knee-pads can help limit ...
injuries.
More