SAQ stands for speed, agility, and quickness training. There are many SAQ exercises used in volleyball such as shuttle runs, ladder drills, four-cone drill, and sprints. SAQ training is designed to mimic game situations and your body's ability to react, slow down, speed up, stop, and make wise movement decisions quickly. SAQ exercises can help you with efficient movement as well as in-game decision making.
Continue Learning about Volleyball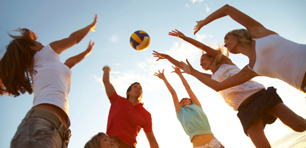 Volleyball is a team sport that involves cardiovascular endurance, agility, and hand-eye-coordination. Lateral movements, foot speed, and hip rotation are all important skills to possess. Proper elbow and knee-pads can help limit ...
injuries.
More