Roughly 40 percent of what you communicate is achieved through the components of what's called para-linguistics, the part of nonverbal communication that conveys emotions and attitudes through tone, pitch, volume, pauses, and throat-clears. What's even more amazing is that these signals have five times more the communicative value than the actual spoken words. Specifically, these are some of the messages that can be conveyed about personality traits:
- An increased rate of speaking generally implies that the individual is more animated and extroverted.
- Flatness in the tone of voice indicates more withdrawn and masculine characteristics.
- A nasal sound is considered undesirable.
- A person with a weak voice is usually perceived as lacking confidence, which lowers credibility. A strong voice, on the other hand, shows great confidence.
- Deeper voice in men means more testosterone at time of puberty, so more able to defend his spouse.
- More high-pitched voice in females means more estrogen at puberty, so more able to birth viable children.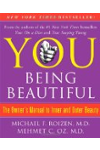 Continue Learning about Voice Disorders