B7 also known as biotin is something everyone should get through diet and their daily multivitamin and mineral formula (MVM) for added insurance of reaching normal daily needs of ~30-100 mcg/day. B7 (biotin) is involved in many important energy producing enzymes and often recommended for strengthening hair and nails.

Little evidence exists that it can deliver on this recommendation unless someone was deficient, which is rare in developed nations. Full biotin deficiency is rare because in normal healthy persons our intestinal bacteria produce it in excess of the body's daily requirements. That said, there are individuals with abnormal metabolism of biotin leading to certain metabolic disorders. In this case they may be treated by a qualified physician with B7 therapy.

Generally biotin supplementation can correct the related deficiencies. Also diabetics have been treated with supplementation to help improve blood sugar control. Biotin can also play a role in preventing diabetes related neuropathy, decreasing the numbness and tingling associated with poor glucose control.

Since signs and symptoms of biotin deficiency can be hair loss, including eventual loss of eyelashes/eyebrows, and easily breaking nails, biotin supplements are often suggested at a dose of ~5000- 7500 mcg/day. To be effective the correction may take months of regular supplement use. If you have symptoms of biotin deficiencies (dermatitis, hair loss, or neuromuscular dysfunction) you should see your doctor for treatment.

Most daily multivitamin and mineral formulas (MVM) contain all the biotin necessary (and probably a little more) for normal healthy people. Although biotin deficiencies are rare, marginal deficiencies have been shown in certain populations such as during pregnancy, athletes, dieters, elderly, alcoholics, and burn patients, which can lead to decreased energy production and other biotin related functions. For this reason we always recommend a daily MVM to all populations containing between 100-300 mg of biotin (B7). Active people maintaining low body fat may do better at the higher part of this range.
Many people have begun using B7 -- biotin -- supplements due to its beneficial effects on the nails and hair. B7 can also improve symptoms of depression, high cholesterol, diabetes and cradle cap. Most people do not need these supplements if they eat a healthy, balanced diet, but others may be unable to get enough biotin through food alone.

People who are more prone to biotin deficiencies include those who use some antibiotics or seizure drugs, eat raw egg whites, are undergoing kidney dialysis, have genetic biotinidase deficiency, are pregnant, smoke or are fed by IVs that do not contain biotin. Ask your doctor about biotin if you fall into one of these categories or have persistent problems with your hair or nails.

Continue Learning about Vitamins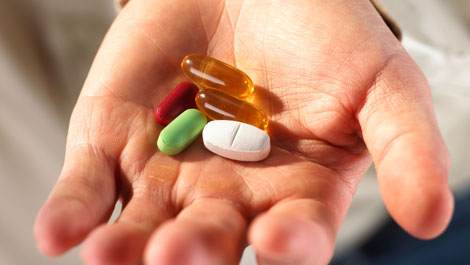 In the United States, the Food and Drug Administration (FDA) regulates vitamin supplements and provides recommended daily amount information. The FDA says that we should pay attention when considering vitamin supplements, because ...
frequently many different vitamins and minerals are combined into one product.
More