Multivitamins usually contain of a combination of vitamins and minerals, but you should take one that best suits your specific health needs. Watch as consumer healthcare expert Tod Cooperman, MD, discusses the ingredients found in multivitamins.
There are no specific requirements or guidelines for what should be in a multivitamin. Many multivitamins are meant to be taken once daily and contain the Recommended Dietary Allowance (RDA), Daily Value, or Adequate Intake for each vitamin and mineral, as determined by the Institute of Medicine's Food and Nutrition Board.

Multivitamins targeting specific consumers may have more or less of certain nutrients depending on the needs of that population. For example, multivitamins targeting premenopausal women might contain extra iron to replace the iron lost in monthly menstruation and folic acid to prevent birth defects if they become pregnant. Multivitamins for postmenopausal women might contain less iron but more calcium and vitamin D, to help strengthen bones against osteoporosis.

Federal law does not require manufacturers to prove their dietary supplements are safe or effective before marketing them, nor are manufacturers required to include specific amounts of any nutrient in a supplement. Be cautious, read labels carefully, and talk to your doctor before taking multivitamins or any supplement.

A good multivitamin is a fountain of micronutrients, some of which are particularly key to your heart's health. Taking a multi that contains the following vitamins and minerals (at the specified dosages) can offer some specific heart benefits.
Some suggested vitamins and their benefits:
Magnesium (400 mg daily) helps keep heart rhythms stable and, with calcium (600 mg twice daily), lowers blood pressure.
To absorb calcium well you need vitamin D (400 IU daily for those under age 60; 600 IU for over 60), which also may decrease inflammation in blood vessels.
Vitamin C (600 mg twice daily) and vitamin E (400-800 IU daily) work as an antioxidant combination-they are much more powerful together than they are separately.
Potassium promotes arterial health (get it from dietary sources: four fruits per day, especially bananas, avocados, and melon).
Take 1500 IU vitamin A per day, but don't consume more than 2500 IU. Megadoses of vitamin A can actually oxidize tissue, which causes DNA damage. One study from Finland showed that people taking vitamin A had a higher risk of lung cancer, atherosclerosis, and, for smokers, stroke.
Folate, a B vitamin, has proven to be essential to human health in various ways, but it has a crucial role for your heart: A daily dose of 700 mcg lowers homocysteine to healthy levels and makes the person whose homocysteine level is 26 mg/dL (the level you should shoot for is less than 9 mg/dL) about six years younger. Your body only partially absorbs the folate in food, so taking a supplement is the easiest way to ensure you are getting enough. But you must also take B-6 and B-12 because folate sometimes unmasks a deficiency in them.
Continue Learning about Vitamins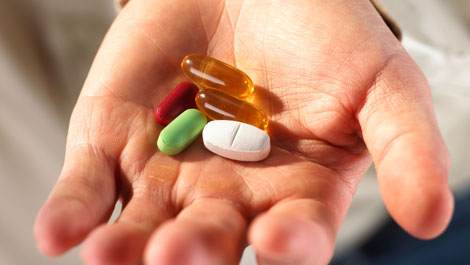 In the United States, the Food and Drug Administration (FDA) regulates vitamin supplements and provides recommended daily amount information. The FDA says that we should pay attention when considering vitamin supplements, because ...
frequently many different vitamins and minerals are combined into one product.
More