Fosteum is a combination product used to treat the dietary concerns of osteoporosis. It contains cholecalciferol (Vitamin D), geniseum, and zinc. Geniseum is a soy product. It can help to slow bone mass some but is not as effective as a bisphosphonate. Fosteum is a dietary supplement whose and not been thoroughly tested -- its safety and effectiveness is not proven. The recommended first-line treatment for osteoporosis and osteopenia is a bisphosphonate, such as Fosamax or Boniva. About 80% of iGuard members believe the benefits outweigh the risks of taking Boniva. Also, when taking calcium as a supplement, make sure to split your doses so that you are not taking more than 500mg at one time, as that is the maximum the body can absorb at one time. Your multivitamin probably also has calcium in it, so separating it from the calcium supplements will increase the amount of calcium that you are actually getting. It is also best to take calcium supplements with meals. It will help you remember to take the medication and improves absorption. Moderate exercise, including weight-bearing exercises have been shown to decrease fracture rate in patients with osteoporosis. Before starting any exercise program or medication, discuss the changes with your physician to make sure you have medical clearance.
Continue Learning about Vitamins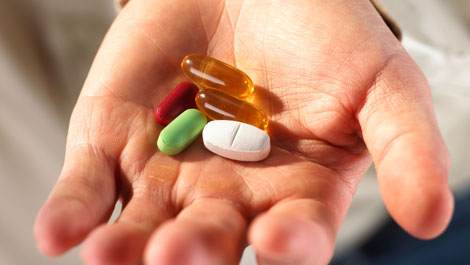 In the United States, the Food and Drug Administration (FDA) regulates vitamin supplements and provides recommended daily amount information. The FDA says that we should pay attention when considering vitamin supplements, because ...
frequently many different vitamins and minerals are combined into one product.
More