You'll find plenty of B vitamins in a variety of foods (chiefly brewer's yeast, wheat germ, whole grains, beans, dark green vegetables, low-fat and nonfat dairy, fish, eggs, and poultry), but to ensure that you get an adequate daily supply, it's best to supplement with a B complex every day that covers all eight Bs -- thiamine (B1), riboflavin (B2), niacin (B3), pantothenic acid (B5), pyridoxine (B6), biotin (B7), folic acid (B9), and cyanocobalamin (B12). These gems are important to energy metabolism and can easily be stripped from the body as a result of stress and certain medicines. Women who take the birth control pill, for example, have been shown to have low blood levels of B vitamins, which may then trigger migraines.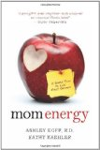 More About this Book
Mom Energy: A Simple Plan to Live Fully Charged
       From celebrated dietitian Ashley Koff and fitness trainer to the stars Kathy Kaehler comes Mom Energy, an exciting new way for moms to tap into their own natural and renewable sources of...
One of the richest sources of vitamin B may surprise you. Find out what it is by watching this video featuring nutritionist Kimberly Snyder.
Continue Learning about Vitamins