Certain medications, like antacids, can inhibit the body's ability to absorb vitamins, says Joe Llenos, MD, from West Valley Medical Group - Caldwell. In this video, he says gut disorders can also affect the ability to absorb vitamins.
Gastric or ileal disease can block absorption of vitamin B12. Cystic fibrosis, chronic liver disease, and short-bowel syndrome can impair the absorption of fat-soluble vitamins, such as vitamin E. Liver disease, kidney disease, or malabsorption maladies can trigger a deficiency of vitamin K, which is essential for blood clotting and may help keep bones healthy. A lack of stomach acid—which often occurs among the elderly—makes it hard to absorb calcium and vitamin B12 from food. Crohn's disease and conditions that affect the small intestine can interfere with vitamin D absorption. In addition, medications for many health conditions can interfere with the absorption of some vitamins and minerals.
Continue Learning about Vitamins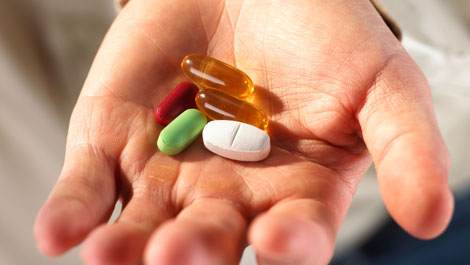 In the United States, the Food and Drug Administration (FDA) regulates vitamin supplements and provides recommended daily amount information. The FDA says that we should pay attention when considering vitamin supplements, because ...
frequently many different vitamins and minerals are combined into one product.
More