Vegetarian diets can provide the requirements for most B vitamins. Depending on the type of vegetarian diet, however, riboflavin and vitamin B12 are potential exceptions. Vitamin B12 has been studied for its effect on vegetarian athletic performance because of its function in maintaining the blood and nervous systems. In fact, injections of B12 are still used by some athletes and coaches because of the belief that it increases oxygen delivery, which in turn will enhance endurance. Since cobalamin -- the active form of B12 -- is found exclusively in animal products, vegan athletes need to regularly consume B12-fortified foods, which include nutritional yeast and those brands of soymilk, breakfast cereals, and meat analogs that are fortified with B12. Vegetarians who consume eggs, cheese, milk, or yogurt receive an ample supply of this vitamin.

Several studies have suggested that riboflavin needs may be increased in people with borderline riboflavin status who are beginning an exercise program. Since riboflavin intakes are reportedly low in some vegans, active vegetarians who avoid dairy products should learn the plant sources of riboflavin to ensure adequate intake. Plant sources of riboflavin include whole grain cereals, soybeans, dark green leafy vegetables, avocados, nuts, and sea vegetables.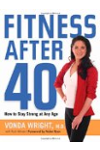 More About this Book
Fitness After 40: How to Stay Strong at Any Age
It's one of the undeniable facts of life. After we reach a certain age, our bodies change. No matter how fit we may have been at 20, we're very different people after 40. But growing older doesn't...
Vitamins, protein drinks, nutrition drinks, etc. It is easy to do.
To ensure that you obtain enough B vitamins from your vegetarian diet, include fortified cereals, fortified soy beverages and soy products, whey powder and a B12 supplement.
A vegetarian diet that is well balanced and varied should adequately meet your B vitamin needs. Since vitamin B12 is predominantly found in animal products, if you are following a vegan diet you might need a supplement if you are not getting adequate B12 from fortified cereal, dairy alternative beverages.
B1 is found in rice, beans, nuts, enriched breads
B2 is found in dark green leafy vegetables, almonds, avocados
B3 is found in fortified grain products, peanuts
B6 is found in bananas, avocados and eggs
B7 is found in bananas, peanuts, grapefruit
B9 is found in green leafy vegetables, citrus fruits, peanuts
B12 is found in fortified cereals and dairy alternatives (soymilk, rice milk, etc.)
Continue Learning about Vitamins