If you're pregnant, you need larger amounts of certain vitamins and minerals, particularly iron and folic acid, as well as DHA, an omega-3 fatty acid. Prenatal vitamins, which can be purchased by prescription or over the counter, meet these needs. Some prenatal vitamins contain DHA; or you can take a separate fish oil capsule; or eat fish twice per week, avoiding shark, swordfish, King Mackerel and tilefish.
It is important not to take other supplements unless specifically advised by a qualified health care provider. The earliest weeks of pregnancy are crucial in the fetus' development, so the sooner in pregnancy you start taking a prenatal vitamin, the better.
If you plan to get pregnant or learn that you are, talk with your doctor right away to find out which prenatal supplement would be best for you to take. During pregnancy, your iron requirement increases to 27 mg and your folic acid requirement to 600 mcg. The calcium Recommended Dietary Allowance (RDA) remains at 1,000 mg for women ages 19 and over, although some clinicians suggest adding calcium during pregnancy for extra insurance.
Guidelines from the World Health Organization recommend that pregnant and nursing women consume an average of 200 mg/per day or more of docosahexaenoic acid (DHA), either by eating fish or taking fish oil supplements, to optimize the baby's brain development.
During pregnancy, your body needs extra vitamins to support your baby's growth and development. Pregnant women need 600 micrograms (mcg) of folic acid daily to reduce the risk of neural tube defects (problems with the development of the baby's brain and spine). They also need 770 mcg of vitamin A, 2.6 mcg of vitamin B12 and 600 international units (IU) of vitamin D.
In addition to vitamins, moms-to-be need a number of extra minerals, including iron and calcium. These nutrients are found in prenatal vitamins. Speak with your health-care provider about your specific nutritional needs.
Try to get these vitamins daily:
A - More than 2,500 IU twice a day is too much (watch for extra Vitamin A in other fortified products like protein bars, breakfast bars, or meal-replacement products)
B1 (thiamin) - 25 mg
B2 (Riboflavin) - 25 mg
B3 (Niacin) - at least 30 mg
B5 (pantothenic acid) - at least 30 mg
B6 (pyridoxine) - 3 mg twice a day
B9 (folic acid) - 400 mcg
B12 - 400 mcg twice a day
Biotin - 300 mcg
C - 400 mg twice a day (remember it's water-soluble, so you need two doses over the day)
D - 600 IU twice a day
E - 200 IU twice a day (or, preferably, 400 IU of mixed tocopherols)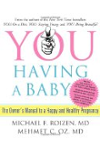 More About this Book
YOU: Having a Baby: The Owner's Manual to a Happy and Healthy Pregnancy
Can I get a cavity filled while pregnant? Will avoiding spicy foods make my kid a picky eater? Can I really increase my baby's IQ while she's in utero? Whether you're pregnant for the first time, are trying to start your family, or already have enough children to start your own basketball team, you're bound to have questions about what it means to be pregnant -- and how you can increase your odds of having a healthy and happy pregnancy. But no matter how much you've read, watched, studied, or talked about this amazing biological journey, you have never read anything like this. In this groundbreaking book, Dr. Michael Roizen and Dr. Mehmet Oz act as mythbusters for the hundreds of questions surrounding pregnancy in the same scientific, informative, and entertaining ways that have made them America's Doctors. In these pages, you'll learn everything you need to know about the miracles of fetal development, your health throughout the pregnancy, and providing the best possible environment for your growing child. Pregnancy is a complicated balancing act, but it doesn't have to be frightening. The doctors will help you de-stress as they describe accurately and rationally what happens during a thrilling nine months of life. While every pregnant body is different, odds are you'll experience some of the cravings, crying, and discomfort that almost all women go through. Your best tactic? Learn why these things are happening -- and what you should do about them. YOU: Having a Baby will teach you everything you need to know about what to eat (should I be eating for two?), how much to exercise, and what guilty pleasures will actually make pregnancy easier on you (and the loved ones who get to be around you for the whole thing). Each phase of pregnancy has different challenges, but the right information will prepare you for what's ahead. The interactive week-by-week calendar inside provides an even more detailed guideline for how and what you should feel through every step of the process. Exciting, cutting-edge scientific research in the fi eld of epigenetics has changed the way the medical profession looks at pregnancy, and now it can change your perspective, too. Epigenetics explores what makes us develop in certain ways -- why some people thrive at math while others are prone to chronic diseases. It turns out that there are easy things you can do that will not just help your baby's development in utero but will actually improve his or her chances of living a healthy, fulfi lling adult life. Filled with recipes for nutritious, satisfying snacks and meals even Pop can cook (yes, he can!), safe exercises for staying fit, and tons of YOU tips that will help you stay comfortable, YOU: Having a Baby is the ultimate guidebook for what to do from the moment of conception to the weeks after your child has arrived home. From morning sickness and food cravings to choosing a doctor and changing a diaper, YOU: Having a Baby will give you the real scoop about what's in store for you during this amazing time in your life.
Continue Learning about Vitamins