First, it's important to note that an overall healthy diet has been shown to promote good eye health. It's always better to get vitamins and minerals in your food, rather than in pill form!

But certain supplements can help reduce the progression of age-related macular degeneration (AMD), a major cause of vision loss in older adults. One particular combination -- 500mg of vitamin C, 400IU of vitamin E, 15mg beta carotene, 80mg of zinc and 2mg copper -- has been shown to lower the chance of progressing to advanced AMD over 5 years by 25%.

However, other supplements, such as omega-3 fatty acids, lutein or zeaxanthin don't seem to improve AMD. However, omega-3s and omega-6 fatty acids may help improve the symptoms of chronic dry eyes, another common eye condition.
According to the Centers for Disease Control and Prevention (CDC), approximately 2 million Americans over age 40 suffer with age-related macular degeneration (AMD), the leading cause of central blindness, and another 7 million boomers are at risk. Individuals with AMD are unable to see images directly in front of them, which affects their everyday functioning, such as the ability to read, drive, and even watch television.

While a comprehensive eye exam by an eye care professional is the best way to detect AMD and cataracts in their early stages, your diet may also provide some eye protection. A waist-friendly diet, chock full of carotenoid-rich green leafy vegetables and fruits such as oranges as well as omega-3 fatty acids-rich fish, may not only reduce your risk of developing AMD and cataracts but also heart disease and cancer. That's a lot of health coverage per bite.

The carotenoids, lutein and zeaxanthin, which are abundant in the lens of your eyes appear to be super antioxidants. These carotenoids have been shown to help protect the eyes from both AMD and cataracts. Studies also suggest that omega-3 fatty acids, which are found in both your eye and brain, can help protect against the inflammation that can damage your eyes. Lastly, being obese appears to also increase the risk of both AMD and cataracts.

Diet is the first line of defense to protect your eyes. However, a supplement may be in order depending upon your medical history. Check with your health care professional and a registered dietitian before taking supplements to make sure that they are appropriate for you.
Continue Learning about Vitamins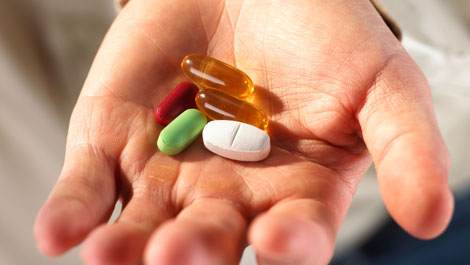 In the United States, the Food and Drug Administration (FDA) regulates vitamin supplements and provides recommended daily amount information. The FDA says that we should pay attention when considering vitamin supplements, because ...
frequently many different vitamins and minerals are combined into one product.
More