Yes, therefore, prior starting a daily vitamin and mineral supplement, provide your doctor with a complete list of all of the medications and supplements you take or have recently taken and discuss appropriate doses. Overdose of vitamins A, D, E and K, for instance, can cause life-threatening side effects. Symptoms of overdose of vitamins or minerals include the following: dry mouth, thirst, bloody urine, decreased appetite, anorexia, stomach pain, vomiting, diarrhea, blackened tarry stools, constipation, coughing blood, irregular menstrual cycle, infrequent urination, decreased heart rate, severe drowsiness, confusion, loss of hair, severe headaches, muscle and joint pain, severe back pain, weakened muscles, tingly mouth, clammy skin, blue lips, paleness of skin, skin peeling, bruising or bleeding and seizures. Multivitamins do interact with some medications, especially if the formulation of therapeutic vitamins and minerals you take contain iron. Multivitamins with minerals should not be taken at the same time as antacids, bisphosphonates, levodopa, thyroid medications or antibiotics. Do not take therapeutic vitamins with minerals with milk or other dairy products, as calcium interferes with the absorption of certain types of minerals and vitamins. Also avoid salt substitutes that contain potassium.


Continue Learning about Vitamins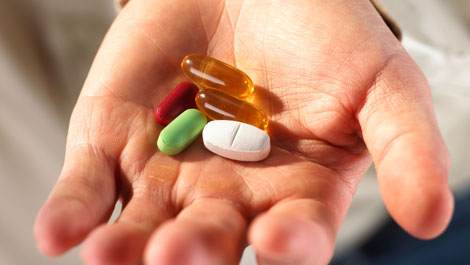 In the United States, the Food and Drug Administration (FDA) regulates vitamin supplements and provides recommended daily amount information. The FDA says that we should pay attention when considering vitamin supplements, because ...
frequently many different vitamins and minerals are combined into one product.
More