Several of the B vitamins (B3, B5, B6, B9, and B12) and other vitamins may help achieve a good night's sleep, but they do not alleviate insomnia for all individuals.
Vitamin B3 (niacin): Promotes sleep in people with depression-induced insomnia and increases the effectiveness of tryptophan. While not proven, it is thought to help people who can fall asleep but have trouble staying asleep.
Vitamin B5 (pantothenic acid): Thought to relieve stress and anxiety.
Vitamin B9 (folic acid): Helps to regulate mood and sleep patterns, especially in older people. May cause health problems when taken in high doses -- consult with your doctor first.
Vitamin B12: Promotes normal sleep-wake cycles, and has been reported to help people with insomnia fall asleep.
Calcium: Confirmed to contribute to good sleep, studies have found calcium levels in the body are higher during some of the deepest levels of sleep, such as rapid-eye movement (REM) sleep.
Magnesium, copper, iron, and zinc deficiencies in the body have been linked to sleeping problems. Consult with your doctor to help determine the right intake to improve your sleep patterns.
Look a the busy B's: Did you know that Vitamin B can help regulate the use of tryptophan?
B3 has been shown to increase REM sleep, help with depression in some cases and decrease nighttime awakenings.
B6 is essential in the production of serotonin, the "calming" hormone that helps calm the body before falling asleep.
Folic acid: A deficiency in folic acid deficient can be found in those with insomnia.
Calcium and magnesium, taken in a 2 to 1 ratio, can be helpful for sleep.
Calcium is a natural relaxant which has a calming effect on the nervous system. 500 mg daily can be helpful (soda can actually strip away calcium).
Magnesium is a mineral that appears to help chronic sleep problems as well. You should take 250 mg daily with 500 mg. of calcium.
Continue Learning about Vitamins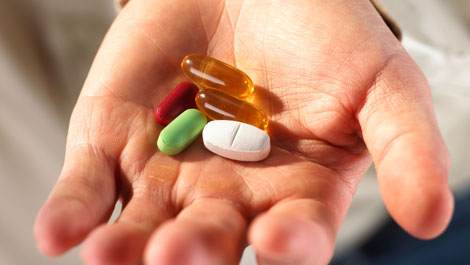 In the United States, the Food and Drug Administration (FDA) regulates vitamin supplements and provides recommended daily amount information. The FDA says that we should pay attention when considering vitamin supplements, because ...
frequently many different vitamins and minerals are combined into one product.
More