A good multivitamin is a fountain of micronutrients, some of which are particularly key to your heart's health. Taking a multi that contains the following vitamins and minerals (at the specified dosages) can offer some specific heart benefits. What's more, taking the right multivitamin twice a day can make your RealAge more than six years younger.
Some suggested vitamins and their benefits:
Magnesium (400 mg daily) helps keep heart rhythms stable and, with calcium (600 mg twice daily), lowers blood pressure.
To absorb calcium well you need vitamin D (400 IU daily for those under age 60; 600 IU for over 60), which also may decrease inflammation in blood vessels.
Vitamin C (600 mg twice daily) and vitamin E (400–800 IU daily) work as an antioxidant combination-they are much more powerful together than they are separately. (By the way, if you are taking a statin such as Zocor, Pravachol, Lipitor, or Crestor, reduce the amount of vitamins C and E you take in supplements or pills to no more than 100 mg twice a day and 100 IU a day, respectively. Vitamins C and E inhibit the anti-inflammatory effects of statins. The cholesterol effects are not altered, just the anti-inflammatory effects, but those account for 40 percent or more of the benefit from statins.
Potassium promotes arterial health (get it from dietary sources: four fruits per day, especially bananas, avocados, and melon).
Take 1500 IU vitamin A per day, but don't consume more than 2500 IU. Megadoses of vitamin A can actually oxidize tissue, which causes DNA damage. One study from Finland showed that people taking vitamin A had a higher risk of lung cancer, atherosclerosis, and, for smokers, stroke.
Folate, a B vitamin, has proven to be essential to human health in various ways, but it has a crucial role for your heart: A daily dose of 700 mcg lowers homocysteine to healthy levels and makes the person whose homocysteine level is 26 mg/dL (the level you should shoot for is less than 9 mg/dL) about six years younger. Your body only partially absorbs the folate in food, so taking a supplement is the easiest way to ensure you are getting enough. But you must also take B-6 and B-12 because folate sometimes unmasks a deficiency in them.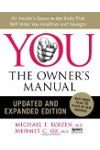 Continue Learning about Vitamins