For migraine headache sufferers, riboflavin may help bring relief. In several controlled studies, this water-soluble B vitamin was shown to reduce the severity and the frequency of migraines. In one study published in the journal Neurology, experts speculated that a deficit of mitochondrial energy metabolism may play a role in migraines, and a prophylactic dose of riboflavin boosts these energy supplies. Patients taking riboflavin supplements (400 milligrams daily) reported more than 50% improvement in attack frequency and headache days. Riboflavin may bring relief to those with carpal tunnel syndrome by reducing the tingling and numbness in the fingers and keeping the nerves healthy. The Recommended Daily Intake (RDI) is 1.7 milligrams daily for women. The best food sources are dairy products, green leafy vegetables, whole grain products, baking flour, yeast, and cereals.
Continue Learning about Vitamins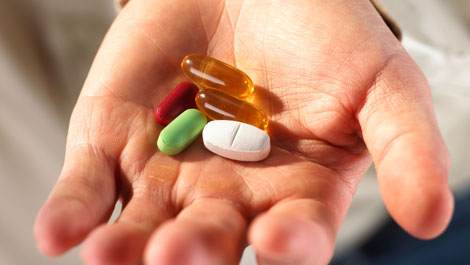 In the United States, the Food and Drug Administration (FDA) regulates vitamin supplements and provides recommended daily amount information. The FDA says that we should pay attention when considering vitamin supplements, because ...
frequently many different vitamins and minerals are combined into one product.
More