You can still take prenatal vitamins if you have hyperemesis gravidarum, which is severe nausea and vomiting during pregnancy -- much worse than garden-variety morning sickness. In fact, research suggests that moms-to-be who begin taking prenatal vitamins early on have a lower risk of developing this uncomfortable condition.

See your health-care provider if you have hyperemesis gravidarum. He may have ideas for keeping the condition from getting worse. For example, it may help to eat frequent small meals during the day and take your prenatal vitamin in the evening.

Pregnant women need extra iron and folic acid, so a prenatal vitamin supplement is recommended for most women. For women with hyperemesis gravidarum (morning sickness), it can seem like a challenge to eat anything, especially a vitamin pill. But certain vitamins such as B6 may actually help lessen symptoms. If your nausea is worse in the mornings, try taking your prenatal vitamins at night. Ask your doctor about the best way to take prenatal vitamins that will not aggravate your symptoms. When it comes to taking any kind of vitamins or medications during pregnancy, always talk with your doctor first.
Continue Learning about Vitamins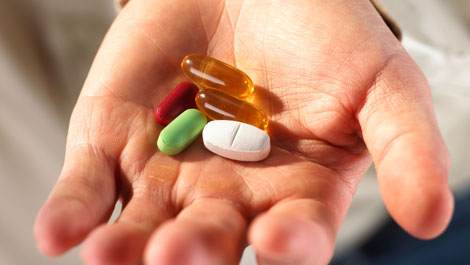 In the United States, the Food and Drug Administration (FDA) regulates vitamin supplements and provides recommended daily amount information. The FDA says that we should pay attention when considering vitamin supplements, because ...
frequently many different vitamins and minerals are combined into one product.
More