Taking large amounts of vitamins, any vitamin, can cause problems for the body. Vitamins A, D, E, K in particular can accumulate in the body and cause problems. A simple daily multivitamin has been dosed to not cause problems for the body. Generally speaking, people who eat a well-balanced diet should have no need for taking vitamin supplements. An exception is that a prenatal vitamin has shown to be beneficial to women of childbearing age. Also, people who are taking certain medications may require vitamin supplementation.
A number of vitamins and minerals have been tested in clinical trials to investigate whether taking large amounts could prevent cancer and other diseases. Generally, excessive vitamin levels had no preventive effect and in some cases were associated with increased cancer deaths. The research highlights the importance of sufficient but not excessive intake of vitamins and minerals.
Continue Learning about Vitamins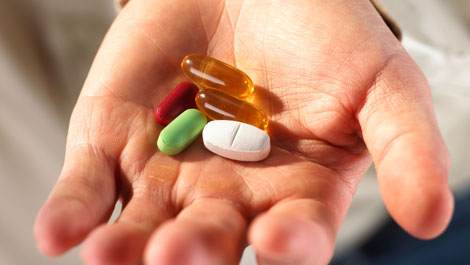 In the United States, the Food and Drug Administration (FDA) regulates vitamin supplements and provides recommended daily amount information. The FDA says that we should pay attention when considering vitamin supplements, because ...
frequently many different vitamins and minerals are combined into one product.
More