Vitamins are normally categorized as water-soluble and fat-soluble. Those that are water-soluble are flushed out on a regular basis and not stored in the body in any appreciable amount. As such, they need to be replenished on a daily basis and risk of toxicity is lower than with fat-soluble vitamins. Fat-soluble vitamins are stored in our fat cells and can accumulate over time. As such, generally smaller amounts are needed and the risk of toxicity from large doses is greater.
There are thirteen vitamins divided into two primary classes. The fat-soluble vitamins are the vitamins A, D, E, and K. Water-soluble vitamins include vitamin C, the B vitamins, biotin, and folic acid. Fat-soluble vitamins can be stored in fat cells. For this reason, your body is able to keep a supply of these vitamins available for use on demand. The downside is that toxic levels can build up in the body, leading to potentially severe side effects. Water-soluble vitamins, on the other hand, are stored in the body in only small amounts. Normally, any quantity of these vitamins that your body does not use is excreted in the urine. However, while it is harder to build up toxic amounts of water-soluble vitamins, it is also easier to develop deficiencies of them.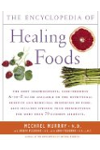 More About this Book
Encyclopedia of Healing Foods
From the bestselling authors of The Encyclopedia of Natural Medicine, the most comprehensive and practical guide available to the nutritional benefits and medicinal properties of virtually everything...
Continue Learning about Vitamins