Taking the right amounts of antioxidant vitamins C and E, for example, can make your RealAge (physiologic age) as much as one year younger. Many people, however, wrongly believe that if a little bit of antioxidant is good, a lot is better. Too many antioxidants, especially the wrong type, can actually cause oxidation and its subsequent damage. My recommendation is to use antioxidation in moderation. Eat a balanced diet, with four servings of fruits and five to six servings of vegetables a day. Then, each day, take 600 milligrams (mg) or more (up to 2,000 mg) of vitamin C in divided doses separated by at least six hours, plus 400 international units (IU) of vitamin E. Take much less -- 100 mg of C and 50 IU of E -- twice a day if you are taking a statin drug such as simvastatin (Zocor), atorvastatin (Lipitor), or rosuvastatin (Crestor) for control of cholesterol levels. Vitamins C and E in excess dosage inhibit the ability of these statin drugs to make your blood vessels younger.
Continue Learning about Vitamins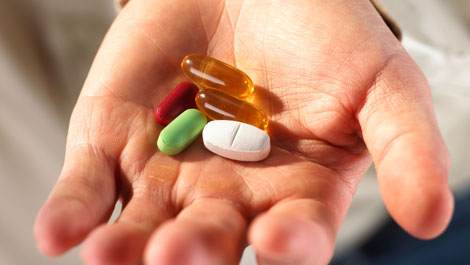 In the United States, the Food and Drug Administration (FDA) regulates vitamin supplements and provides recommended daily amount information. The FDA says that we should pay attention when considering vitamin supplements, because ...
frequently many different vitamins and minerals are combined into one product.
More