Also known as vitamin B1, thiamin is necessary for the body to produce energy from the foods you eat. It is also needed for the synthesis of DNA and RNA.
Vitamin B1, also called thiamin or thiamine, has a number of health benefits. For starters, it helps the body convert food into energy. And as part of the eight nutrients that make up the B-complex family, vitamin B1 plays an important role in brain, nerve, muscle and heart function. It's also thought to boost the immune system and protect against stress. That's why not getting enough vitamin B1 can lead to fatigue, weakness and nerve damage.

Because vitamin B1 is found in many common foods, including eggs, whole grains and lean meats, most people get the recommended daily amount, which is 1.1 milligrams (mg) for women and 1.2 mg for men. People with alcoholism or anorexia are at risk for a deficiency, which may lead to a disease called beriberi. Symptoms include swollen feet and confusion.

Vitamin B1, a water-soluble vitamin, is crucial to convert fats, carbohydrates, and amino acids to energy. While there is no guaranteed link between vitamin B1 and chronic pain, some studies are beginning to surface with positive results. In a study published in 2001 in Cochrane Database of Systematic Reviews, researchers wanted to see if nutritional intake and metabolism play an important role in the cause and treatment of menstrual disorders, including painful menstrual cramps. After trying various therapies, including magnesium, calcium, and B vitamins, they concluded vitamin B1 is an effective treatment for painful menstrual cramps taken at 100 milligrams daily. The Recommended Daily Intake (RDI) is 1.5 milligrams for women. The best food sources are pork, organ and red meats, whole and enriched grains, nuts, green and deep orange fruits and vegetables, beans, peas, and dairy products.
Continue Learning about Vitamins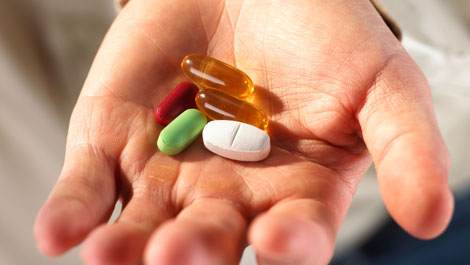 In the United States, the Food and Drug Administration (FDA) regulates vitamin supplements and provides recommended daily amount information. The FDA says that we should pay attention when considering vitamin supplements, because ...
frequently many different vitamins and minerals are combined into one product.
More