Always check with your physician before taking any supplements.
Recommendations from the American Kidney Association website:
Take vitamins after your treatment since dialysis can remove them from your blood. Taking them after the treatment allows your body to absorb and utilize them before the next treatment.
Thiamine (B1) 1.5 mg/day: Helps process food; required for proper functioning of the heart, muscles and nervous system; deficiency signs include weakness, fatigue and nerve damage.
Riboflavin (B2) 1.7 mg/day: Helps the body process food; deficiency signs include sore throat, mouth and/or lip sores, anemia and skin disorders.
Niacin (B3) 20 mg/day: Involved with the digestive system, skin and nerves; helps the body process food; deficiency signs include inflamed skin, digestive problems and mental impairment.
Pantothenic Acid (B5) 10 mg/day: Helps process food; essential for production of hormones and cholesterol.
Pyridoxine (B6) 10 mg/day: Involved in red blood cell development and immune system; helps maintain normal nerve function; required for protein digestion (the higher the protein intake, the higher the need for this vitamin); deficiency signs include mouth and tongue sores, irritability, confusion and depression.
Cobalamin (B12) 6 mcg/day: Involved in formation of red blood cells; maintenance of the central nervous system; deficiency signs include anemia and neurological symptoms (numbness, tingling, weakness, loss of balance).
Folic Acid 800-1000 mcg/day: Helps process and use protein; necessary for production of red blood cells and synthesis of DNA; helps tissue growth and cell function.
Biotin 300 mcg/day: Helps process food; involved in synthesis of hormones and cholesterol; may be an option for treatment of uremic neurological disorders including hiccups and restless leg syndrome.
Vitamin C 60 mg/day: Antioxidant; needed for growth and repair of tissues, collagen production, wound healing and repair and maintenance of cartilage, bones and teeth.
References:
www.ikidney.com
www.nephron.com/vitamins.html
www.medlineplus.gov
Continue Learning about Vitamins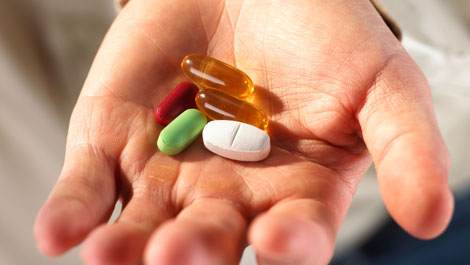 In the United States, the Food and Drug Administration (FDA) regulates vitamin supplements and provides recommended daily amount information. The FDA says that we should pay attention when considering vitamin supplements, because ...
frequently many different vitamins and minerals are combined into one product.
More