There is no clear evidence that multivitamins reduce your risk of cancer.
A new study in the
Journal of the American Medical Association
suggests that taking a multivitamin may reduce one's risk of cancer.
Researchers followed nearly 15,000 male U.S. physicians over the age of 50 over 11 years. Compared with those who took a placebo pill, men who took a daily multivitamin had a modest but significant reduction in developing cancer. Of the men who took the multivitamin, 17 men per 1,000 developed cancer, compared to the 18.3 men per 1,000 in the placebo group. The study even showed a reduction in cancer among the 1,312 men who had a past history of cancer before the study.
The authors claim that this data from the National Physicians Health Study II (PHSII) represents "the only large-scale, randomized, double blind, placebo-controlled trial testing the long-term effects of a common multivitamin in the prevention in chronic disease." The researchers also assessed side effects of multivitamins and found a slightly higher number of rashes, but no difference in the number of gastrointestinal symptoms, like nausea or vomiting.
However, as the researchers analyzed different types of cancers separately, they found no difference in specific cancers, including prostate cancer or colorectal cancer. They also failed to find a significant difference in cancer mortality.
This study comes out at a time when many physicians disagree about the overall benefits of multivitamins. The 2010 Dietary Guidelines for Americans didn't officially recommend multivitamins due to a lack of evidence suggesting that multivitamins "[prevent] chronic disease." Other studies, including the Women's Health Initiative and the Cancer Prevention Study, have failed to connect multivitamins with lower rates of breast cancer and cancer, respectively.
However, this most recent study further fuels the need for more research on the effects and benefits of long-term multivitamin use. Until then, the choice of taking multivitamins is up to you.
This content originally appeared on
doctoroz.com
Continue Learning about Vitamins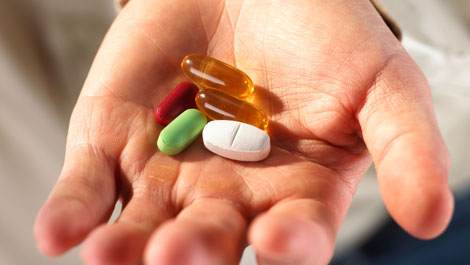 In the United States, the Food and Drug Administration (FDA) regulates vitamin supplements and provides recommended daily amount information. The FDA says that we should pay attention when considering vitamin supplements, because ...
frequently many different vitamins and minerals are combined into one product.
More