Through diet and a daily multivitamin and mineral formula taken with a meal. B7 (also known as biotin) sources include Swiss chard, eggs (mainly the yolk), liver, some vegetables and supplements. Most daily multivitamin and mineral formulas (MVM) contain all the biotin necessary (and probably a little more) for normal healthy people. Although full biotin deficiencies are rare, marginal deficiencies have been shown in certain populations such as during pregnancy, athletes, dieters, elderly, alcoholics, and burn patients, which can lead to decreased energy production and other biotin-related functions. For this reason we always recommend a daily MVM to all populations containing between 100-300 mg of biotin (B7). Active people maintaining low body fat may do better at the higher part of this range. If you are diagnosed as biotin deficient, your doctor will prescribe the proper amount as a medicine.
Taking vitamin B9 as part of a balanced multiple vitamin and mineral formula (like the dotFIT ActiveMV) is probably the easiest way. Should you know you need only additional B9, then a specific product containing folic acid is recommended. Dosing of up to 800mcg/day (depending on intake from food) from dietary supplements is often recommended.
If you are taking vitamin B7 on a regular basis, try to take it at the same time every day, according to your doctor's or the label instructions. Drink at least eight ounces of water with each tablet for the vitamins to be properly digested and distributed throughout the body. Take your vitamin with food if your stomach is easily upset. If your dose of vitamin B7 is part of a multivitamin and you are concerned about the effects of the other vitamins on your other medications or diet, speak with your doctor to find out more.


Continue Learning about Vitamins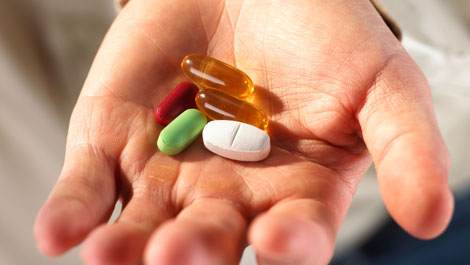 In the United States, the Food and Drug Administration (FDA) regulates vitamin supplements and provides recommended daily amount information. The FDA says that we should pay attention when considering vitamin supplements, because ...
frequently many different vitamins and minerals are combined into one product.
More