You can't generalize that all supplements are safe or all are unsafe. But you should generally steer clear of any supplement that has a stimulant in it, such as energy or weight-loss pills containing caffeine. Again, you can't say none of them are good, but these types of pills are usually the ones that we see causing side effects that put patients in the emergency room.
Most of us assume that vitamins are naturally safe. In this video, cancer specialist and author Dr. David Agus explains why this might not be true.
No. For some people, depending upon their diet and personal history, a supplement may not be healthful.
Always talk to your health care professional or a registered dietitian before taking a vitamin or mineral supplement to make sure it is appropriate based on your medical history, especially if you are taking prescription medications. Supplements can interact or interfere with certain medications. If you regularly eat many fortified foods, the addition of a supplement could cause you to overconsume some nutrients.

A meeting with a registered dietitian for a diet "checkup" can help you decide if a supplement is needed. To find a local registered dietitian, visit: www.eatright.org. Continue Learning about Vitamins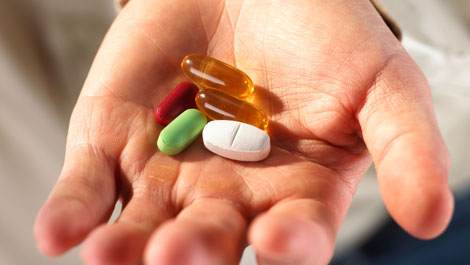 In the United States, the Food and Drug Administration (FDA) regulates vitamin supplements and provides recommended daily amount information. The FDA says that we should pay attention when considering vitamin supplements, because ...
frequently many different vitamins and minerals are combined into one product.
More