Biotin, or vitamin B7, is commonly found in foods such as brewer's yeast, strawberries, organ meat, cheese and soybeans.
The following foods are rich in biotin:

• Liver
• Cooked eggs
• Wild salmon
• Avocado
• Whole wheat bread
• Cauliflower
• Raspberries
The best sources of biotin are brewer's yeast, organ meats, and soybeans. Good sources are peanuts, oatmeal, cauliflower, and mushrooms. Note: Raw egg whites contain avidin, a protein that binds biotin and prevents its absorption. Avidin is destroyed by cooking.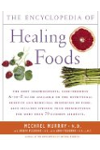 More About this Book
Encyclopedia of Healing Foods
From the bestselling authors of The Encyclopedia of Natural Medicine, the most comprehensive and practical guide available to the nutritional benefits and medicinal properties of virtually everything...
Continue Learning about Biotin