A deficiency of vitamin K1 leads to impaired mineralization of the bone due to inadequate active osteocalcin levels. Very low blood levels of vitamin K1 have been found in patients with fractures due to osteoporosis. The severity of the fracture strongly correlated with the level of circulating vitamin K: the lower the level of vitamin K, the greater the severity of the fracture. Vitamin K1 is found in green leafy vegetables and may be one of the protective factors of a vegetarian diet against osteoporosis. Rich sources of vitamin K are dark green leafy vegetables, green tea, spinach, broccoli, lettuce, and cabbage. Good sources are asparagus, oats, whole wheat, and fresh green peas. The RDA for vitamin K is one microgram per 2.2 pounds of body weight.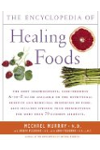 More About this Book
Encyclopedia of Healing Foods
From the bestselling authors of The Encyclopedia of Natural Medicine, the most comprehensive and practical guide available to the nutritional benefits and medicinal properties of virtually everything...