Vitamin E is a fat soluble vitamin and a potent antioxidant. Sources of vitamin E include:
Wheat germ
Peanut butter
Almonds
Soy milk
Sunflower seeds
Almonds
Corn oil
Olive oil The best sources of vitamin E are plant sources. Nuts, seeds, vegetable oils and dark leafy green vegetables are the best. Just 1 ounce of sunflower seeds actually gives you all of the vitamin E an average individual needs for the day! Vitamin E is also a fat-soluble vitamin (meaning best absorbed with fat); so if you choose dark leafy greens as your source, be sure to cook it with vegetable oils or use a vegetable oil based salad dressing.
The best food sources are cold-pressed seed oils, wheat germ, nuts, seeds, mango, and green leafy vegetables like broccoli, chard, kohlrabi, pumpkin, spinach, and greens of dandelion, mustard and turnip. You can also find vitamin E in meat, fish, poultry, clams, mackerel, salmon, and shrimp.
The best sources of vitamin E are wheat germ oil and polyunsaturated vegetable oils, seeds, and nuts. Good sources are asparagus, avocados, green leafy vegetables, tomatoes, and whole grains.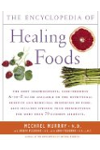 More About this Book
Encyclopedia of Healing Foods
From the bestselling authors of The Encyclopedia of Natural Medicine, the most comprehensive and practical guide available to the nutritional benefits and medicinal properties of virtually everything...
Continue Learning about Vitamin E