Vitamin E is a potent antioxidant that may help slow the aging process. In addition to protecting cells from oxidation, vitamin E also shields other nutrients -- such as vitamins A and C -- from free-radical damage.

Dietary vitamin E could protect against bladder cancer, according to researchers from the University of Texas M.D. Anderson Cancer Center in Houston. Their 2004 study found that subjects who consumed the most vitamin E from food alone (9 milligrams -- not even topping the daily recommended intake) reduced their risk for bladder cancer by 42 percent.

Immune Health

In a study published in the Journal of the American Medical Association, seniors who were given synthetic vitamin E (90 milligrams, which is six times the RDA) were nearly 20 percent less likely to catch a cold in a 12-month period than those given a placebo.

Brain Health

Researchers in Chicago showed that seniors in the top fifth of vitamin E intake from food (less than 4.7 milligrams per day) had a 70 percent lower risk of developing Alzheimer's. The authors noted that there was no protective effect from supplemental vitamin E. In addition, a Canadian study found that increased vitamin E intake reduced the frequency of seizures in epileptic children.
Vitamin E is required by most animal species, including humans. It was discovered in 1922, when rats fed a purified diet without vitamin E were unable to reproduce. Wheat germ oil added to their diet restored their fertility. Later, vitamin E was isolated and was originally called the "antisterility" vitamin or tocopherol. The word "tocopherol" comes from the Greek words tokos, meaning "offspring," and phero, meaning "to bear." Hence, tocopherol literally means "to bear children," a reference to the rats' renewed ability to reproduce. Alpha-tocopherol is the chemical name for the most active form of vitamin E, at least in rats. In humans, new research suggests that the gamma and delta fractions and the tocotrienols may be much more important for cardiovascular health.

Vitamin E functions primarily as an antioxidant by protecting against damage to cell membranes. Without vitamin E, the cells of the body would be quite susceptible to damage. Nerve cells would be particularly vulnerable. Severe vitamin E deficiency is quite rare, but there are a number of conditions in which low levels of vitamin E have been reported, including acne, anemia, some cancers, gallstones, Lou Gehrig's disease, muscular dystrophy, Parkinson's disease, and Alzheimer's disease.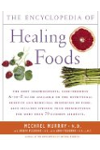 More About this Book
Encyclopedia of Healing Foods
From the bestselling authors of The Encyclopedia of Natural Medicine, the most comprehensive and practical guide available to the nutritional benefits and medicinal properties of virtually everything...
Vitamin E is a fat soluble vitamin and is sometimes referred to as a vitamin in need of a disease to cure. For almost 40 years after its discovery, scientists searched unsuccessfully for a curative role for vitamin E. They now have shifted their focus and begun valuing the vitamin's importance as an effective antioxidant.

Vitamin E's nutritional claim to fame is its role as a powerful antioxidant. This role is extremely important in protecting cell membranes and preventing oxidation of the "bad" LDL cholesterol carrier.

Phospholipids (lipids that contain phosphorus and two fatty acids) are critical components of cell membranes. Many phospholipids contain unsaturated fatty acids, which are vulnerable to the damaging effects of free radicals. As an antioxidant, vitamin E neutralizes free radicals before they can harm cell membranes.

There isn't any known risk of consuming too much vitamin E from natural food sources. However, overconsumption of the synthetic form that is found in supplements and/or fortified foods could pose risks. Continue Learning about Vitamin E