A number of studies have shown that vitamin D improves athletic performance. How so? Vitamin D is essential for strong bones, and studies also show that it helps build muscle by increasing the size and number of the fast-twitch muscle fibers that are critical for fast and powerful movements.

More evidence that vitamin D may help athletes comes from the fact that athletic performance peaks during the summer months, when people are exposed to more sunlight and have higher levels of vitamin D in their bodies, whereas performance drops to its lowest point in the darker winter months, when people tend to have less vitamin D.
Vitamin D is essential for the absorption of calcium and phosphorus and for bone formation. Lack of adequate vitamin D may manifest itself in unexplained muscle pain or weakness or low calcium balance.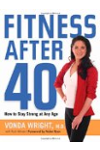 More About this Book
Fitness After 40: How to Stay Strong at Any Age
It's one of the undeniable facts of life. After we reach a certain age, our bodies change. No matter how fit we may have been at 20, we're very different people after 40. But growing older doesn't...