The following foods are the top sources of Vitamin D:
Salmon
Sardines, canned
Dole portobello mushrooms
Nonfat milk, fortified
Cereal, fortified
Egg yolk
Button mushrooms
Increased exposure to sunshine will also raise your levels of vitamin D.
Many products are fortified with vitamin D, but it's also found naturally in some delicious foods. Learn what they are by watching this video featuring internal medicine specialist Dr. Keri Peterson.
We have all heard of vitamin D, but we may not appreciate its important role in bone health for adults. Vitamin D also helps prevent common cancers, hypertension, and even type 1 diabetes.

Unlike other fat-soluble vitamins that are plentiful in a healthy diet, vitamin D is in very few food sources naturally. Food with high vitamin D content includes oily fish such as salmon and mackerel and cod liver oil. To obtain adequate vitamin D from natural food sources alone, you would need to eat these fish three to four times a week or take cod liver oil daily. Some food, including milk, some breads, and calcium-supplemented soy milk and orange juice, are fortified with vitamin D. However, the majority of our vitamin D requirement (80 to 95 percent) comes not from food but from exposure to sunlight.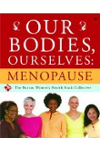 More About this Book
Our Bodies, Ourselves: Menopause
FROM THE EDITORS OF THE CLASSIC "BIBLE OF WOMEN'S HEALTH," A TRUSTWORTHY, UP-TO-DATE GUIDE TO HELP EVERY WOMAN NAVIGATE THE MENOPAUSE TRANSITION For decades, millions of women have relied on Our...
Continue Learning about Vitamin D