In the case of scurvy or severe vitamin C deficiency, the classic symptoms are bleeding gums, poor wound healing, and extensive bruising. In addition to these symptoms, susceptibility to infection, hysteria, and depression are hallmark features of vitamin C deficiency. Only 10 to 20 milligrams per day is required to prevent scurvy and severe vitamin C deficiency, although this amount is too low to support optimal health.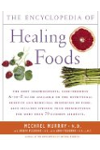 More About this Book
Encyclopedia of Healing Foods
From the bestselling authors of The Encyclopedia of Natural Medicine, the most comprehensive and practical guide available to the nutritional benefits and medicinal properties of virtually everything...
Continue Learning about Vitamin C