Vitamin C, a water-soluble vitamin, is plentiful in fresh fruits and vegetables. This key antioxidant helps to maintain the strength of collagen, ligaments and tendons and can block the effect of inflammatory substances, which can lead to pain and destruction in the body. There are studies showing that vitamin C inhibits the breakdown of cartilage and may be beneficial to those with back pain from osteoarthritis, as the cartilage is often adversely affected.

You can get enough vitamin C by eating five servings of fresh fruits and vegetables daily including the following: broccoli, cauliflower, peppers, kale, Brussels sprouts, cabbage, citrus fruit, melons, asparagus, avocado, kohlrabi, mustard greens, peppers, tomato, and watercress. A deficiency of vitamin C might lead to the development of weak cartilage. Supplementation with a vitamin C tablet may be advised if your diet is inadequate, so ask your doctor if you are concerned.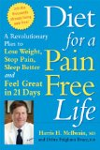 Yes, in some short-term studies, vitamin C from dietary sources (OJ, broccoli, strawberries, red peppers, etc.) has been shown to help prevent loss of cartilage (the cushion between your bones), and even protect you from developing osteoarthritis. In fact, in the Framingham study, exercise that strengthens muscles above and below the joint, vitamin C, vitamin D, and calcium helped stop the progression of osteoarthritis. However, other long-term studies haven't been quite as positive. In fact, one showed that taking C actually made osteoarthritis symptoms worse, especially cartilage loss. That being said, National Institutes of Health (NIH) on a scale of effective to ineffective said that vitamin C would be "possibly effective" at slowing the worsening of osteoarthritis. So talk to your doctor about your options and what will work best for you.