In the Framingham Osteoarthritis Cohort Study, which was part of the Framingham Heart Study that has yielded important information on the causes and prevention of heart disease, people who consumed a higher amount of vitamin C had a three-fold lower risk of cartilage loss and disease progression than people who took in less vitamin C.
A study in Britain involving more than 23,000 participants found that people who consumed less vitamin C had a higher risk of developing inflammatory polyarthritis, a form of rheumatoid arthritis that affects two or more joints. Reducing the risk of inflammatory polyarthritis may or may not correlate well with other types of arthritis, but the fact that vitamin C plays a positive role in protecting joints seems obvious.
Of note, a 2004 animal study showed that high levels of prolonged vitamin C intake actually increase the risk of arthritis progression in the knee. Human studies are needed to confirm or refute these results, but this does offer an argument to not exceed the recommended daily allowance (RDA), which is 90 mg for men and 75 mg for women. Because of this somewhat conflicting evidence, I do not recommend vitamin C supplementation for arthritis.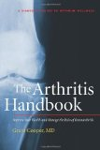 Vitamin C, a water-soluble vitamin, is plentiful in fresh fruits and vegetables. This key antioxidant helps to maintain the strength of collagen, ligaments and tendons and can block the effect of inflammatory substances, which can lead to pain and destruction in the body. There are studies showing that vitamin C inhibits the breakdown of cartilage and may be beneficial to those with back pain from osteoarthritis, as the cartilage is often adversely affected.
You can get enough vitamin C by eating five servings of fresh fruits and vegetables daily including the following: broccoli, cauliflower, peppers, kale, Brussels sprouts, cabbage, citrus fruit, melons, asparagus, avocado, kohlrabi, mustard greens, peppers, tomato and watercress. A deficiency of vitamin C might lead to the development of weak cartilage. Supplementation with a vitamin C tablet may be advised if your diet is inadequate, so ask your doctor if you are concerned.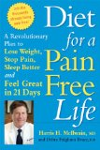 More About this Book
Diet for a Pain-Free Life: A Revolutionary Plan to Lose Weight, Stop Pain, Sleep Better and Feel Great in 21 Days, ADA...sound nutritional advice...do-able, delicious..a godsend to pain sufferers.
Do you wake up each morning aching with joint or muscle pain? Have you been trying to lose stubborn belly fat for years? Do you wish you could be active without pain medications? Look no further: Diet for a Pain-Free Life is the simple-to-follow, doctor-designed solution to improve your health. Leading rheumatologist, Dr. Harris McIlwain shares his revolutionary prescriptions in this first proven lifestyle plan that will help you drop pounds and decrease pain at the same time. Losing just 10 pounds can reduce chronic pain by as much as 90 percent. Learn the secrets of how to: Eat Well and Lose Weight with the Pain-Free Diet—even if you've never been able to succeed on a diet before Exercise Your Pain Away—even if you dislike traditional exercise, or if your pain makes movement difficult Stop the Stress-Pain Connection—even if you're overworked and easily stressed Improve the Quality of Your Sleep—even if you suffer from insomnia or other sleep conditions Those who have followed Dr. McIlwain's program have been able to resume the activities they love and transform their lives in as few as 21 days—now you can too.
Yes, in some short-term studies, vitamin C from dietary sources (OJ, broccoli, strawberries, red peppers, etc.) has been shown to help prevent loss of cartilage (the cushion between your bones) and even protect you from developing osteoarthritis. In fact, in the Framingham study, exercise that strengthens muscles above and below the joint, vitamin C, vitamin D and calcium helped stop the progression of osteoarthritis. However, other long-term studies haven't been quite as positive. In fact, one showed that taking C actually made osteoarthritis symptoms worse, especially cartilage loss. That being said, National Institutes of Health (NIH) on a scale of effective to ineffective said that vitamin C would be "possibly effective" at slowing the worsening of osteoarthritis. So talk to your doctor about your options and what will work best for you.
Continue Learning about Vitamin C