Folic acid deficiency can cause symptoms including diarrhea, loss of appetite, weight loss and weakness. It may also lead to headaches, a sore tongue, heart palpitations, irritability and memory problems. Folic acid deficiency may raise the risk of cardiovascular disease by increasing the blood levels of homocysteine, an amino acid that seems to promote blood clots and fat buildup in the arteries. Women who are deficient in folic acid and become pregnant are at increased risk for having babies born prematurely, at low birth weight and/or with neural tube defects (problems with the formation of the baby's brain and spine). Talk to your doctor about your own folic acid needs.

Despite its wide occurrence in food, folic acid deficiency is the most common vitamin deficiency in the world. Folic acid deficiency is characterized by poor growth, diarrhea, anemia, gingivitis, and an abnormal Pap smear in women. The reason reflects food choices: animal foods, with the exception of liver, are poor sources of folic acid, while plant foods, which are rich sources, are not as frequently consumed. In addition, alcohol and many prescription drugs, such as estrogens, sulfasalazine, and barbiturates, impair folic acid metabolism; and folic acid is extremely sensitive to and easily destroyed by light or heat. The RDA for folic acid is 200 micrograms for males and 180 micrograms for females.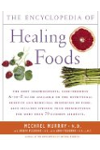 More About this Book
Encyclopedia of Healing Foods
From the bestselling authors of The Encyclopedia of Natural Medicine, the most comprehensive and practical guide available to the nutritional benefits and medicinal properties of virtually everything...
Continue Learning about Vitamin B9