A true vitamin B6 deficiency is rare, but some Americans do have lower levels of vitamin B than is healthy.
Symptoms of severe vitamin B deficiency include:
scaling of the lips and cracks around the mouth
a swollen tongue
pins and needles sensations in the hands and feet
depression
confusion
A deficiency can also cause anemia and weaken the immune system.
Deficiency of vitamin B6 (pyridoxine) is characterized by depression, convulsions (especially in children), glucose intolerance, and impaired nerve function. Although extreme deficiency of vitamin B6 is believed to be quite rare, numerous clinical studies have demonstrated the importance of vitamin B6 in a number of health conditions that typically respond to B6 supplementation, including asthma, premenstrual syndrome (PMS), carpal tunnel syndrome, depression, morning sickness, and kidney stones. It is of interest to note that the increased rate of these disorders since the 1950s parallels the increased levels of vitamin B6 antagonists found in the food supply and used as drugs during the same period.

These antagonists to vitamin B6 include the hydrazine dyes, such as FD&C Yellow No. 5; certain drugs, such as isoniazid, hydralazine, dopamine, and penicillamine; oral contraceptives; alcohol; and excessive protein intake. The intake of Yellow No. 5, also called tartrazine, is especially problematic, as it is often consumed in greater quantities, with a per capita intake of 15 grams per day, than the RDA for vitamin B6, which is 2.0 milligrams for males and 1.6 milligrams for females.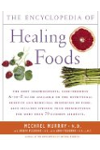 More About this Book
Encyclopedia of Healing Foods
From the bestselling authors of The Encyclopedia of Natural Medicine, the most comprehensive and practical guide available to the nutritional benefits and medicinal properties of virtually everything...