The top sources of vitamin B5 in foods are:
liver
wild salmon
mushrooms
lentils
turkey breast
cereal
Pantothenic acid is widely available in plant and animal food sources. Rich sources include organ meats (liver, kidney), egg yolk, whole grains, avocados, cashew nuts, peanuts, lentils, soybeans, brown rice, broccoli and milk.
Pantothenic acid (vitamin B5) is found in highest concentrations in liver and other organ meats, milk, fish, and poultry. Good plant sources of pantothenic acid include whole grains, legumes, broccoli, cauliflower, and nuts. There is no official RDA for pantothenic acid, but a daily intake of four to seven milligrams is believed to be adequate.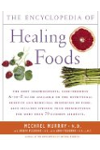 More About this Book
Encyclopedia of Healing Foods
From the bestselling authors of The Encyclopedia of Natural Medicine, the most comprehensive and practical guide available to the nutritional benefits and medicinal properties of virtually everything...
Continue Learning about Vitamin B5