A deficiency of vitamin B12 causes anemia -- a condition in which the body does not have enough healthy red blood cells.

Red blood cells deliver oxygen throughout the body. We usually think of iron when we hear the term anemia, but vitamin B12 is just as essential for making red blood cells.

When anemia is caused by a B12 deficiency, it is called vitamin B12 deficiency anemia, or sometimes pernicious anemia. Anemia can cause fatigue, weakness, constipation, loss of appetite and weight loss.

Vitamin B12 deficiency results in impaired nerve function, which can cause numbness, "pins and needles" sensations, or a burning feeling in the feet, as well as impaired mental function, which in the elderly can mimic Alzheimer's disease. In addition to depression or mental confusion, vitamin B12 deficiency can present as anemia; a smooth, beefy red tongue; and diarrhea. Vitamin B12 deficiency is quite common in the elderly.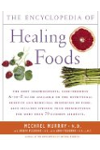 More About this Book
Encyclopedia of Healing Foods
From the bestselling authors of The Encyclopedia of Natural Medicine, the most comprehensive and practical guide available to the nutritional benefits and medicinal properties of virtually everything...