The best dietary sources of carotene are fruits and vegetables that are orange, yellow, and green in color. The deeper/more intense the color is a sign of higher carotene level. Examples of dietary sources of carotene include carrots, sweet potato, winter squash, cantaloupe, spinach, broccoli, lettuce.
Carotenes are found in all plant foods. In general, the greater the intensity of color, the higher the level of carotenes. In green leafy vegetables, beta-carotene is the predominant carotene. Orange-colored fruits and vegetables, such as carrots, apricots, mangoes, yams, and squash, are excellent sources of alpha-, beta-, and gamma-carotenes, but in most plant foods, other non-provitamin A carotenes typically predominate. For example, yellow vegetables have higher concentrations of yellow carotenes (xanthophylls), hence a lowered provitamin A activity. However, these compounds, including lutein, have shown significant health benefits due to their antioxidant effects.
The twenty foods richest in these important carotenes are:
Corn
Kiwifruit
Red grapes
Squash (zucchini, pumpkin, butternut, etc.)
Bell peppers (red > orange > green > yellow)
Greens (spinach, kale, chard, etc.
Cucumber
Peas
Honeydew melon
Celery
Green grapes
Brussels sprouts
Scallions
Greenbeans
Orange
Broccoli
Apple
Mango
Peach
Tomato paste or juice
Cabbage, berries, and plums, contain a large portion of non-vitamin A-active carotenes, such as lycopene that are also showing health benefits. Legumes, grains, and seeds are also significant sources of carotenes. Carotenes are found in various animal foods, such as salmon and other fish, egg yolks, milk, and poultry. Good supplemental forms of mixed carotenes include palm oil carotene products, algal products, carrot oil, and the various "green drinks" on the market, such as dehydrated barley greens and wheat grass.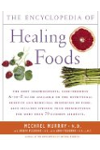 More About this Book
Encyclopedia of Healing Foods
From the bestselling authors of The Encyclopedia of Natural Medicine, the most comprehensive and practical guide available to the nutritional benefits and medicinal properties of virtually everything...