Sledgehammers aren't your only skeletal enemies. Getting more than 2,500 milligrams of vitamin A from supplements daily could hurt bone formation. You need some vitamin A, but there is such a thing as having too much. (Disregard this advice if you're pregnant or you will be pregnant; your fetus needs even more vitamin A than she gets from you in order to develop her brain.)

You can't OD on vitamin A from food sources (carrots, red peppers, sweet potatoes), but make sure your vitamins and supplements don't put you over the limit.

By the way, two other enemies to your bone health are excessive alcohol and smoking.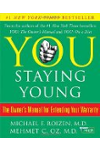 Continue Learning about Vitamin A