Vitamin A is used to treat vitamin A deficiency. It can also be used to treat acne, measles, dry eyes, and night blindness, as well as Crohn's disease, Kyrle's disease, and Darier's disease. The vitamin can also help with cancer prevention and promoting growth.


Vitamin A was the first fat-soluble vitamin to be recognized. The initial discovery of vitamin A in 1913 was made almost simultaneously by two groups of research workers, Elmer McCollum and Marguerite Davis at the University of Wisconsin, and Thomas Osborne and Lafayette Mendel at Yale University. They found that young animals fed on a diet deficient in natural fats became very unhealthy, as evidenced by their inability to grow and by poor immune function. These researchers also noted that the animals' eyes became severely inflamed and infected on the restricted diet, and that this could be quickly relieved by the addition to the diet of either butterfat or cod-liver oil. Today, we know that these foods are excellent sources of vitamin A. Once known as the "anti-infective vitamin," vitamin A has recently regained recognition as a major determinant of immune status.
The best understood role of vitamin A, however, is its effects on the visual system. The human retina has four kinds of vitamin A-containing compounds that function in the visual process. Night blindness or poor dark adaptation is an early consequence of vitamin A deficiency. Vitamin A is also necessary for proper growth and development, and is particularly important in maintaining the health and structure of the skin. Many skin disorders, including acne and psoriasis, are often responsive to vitamin A. Other body functions aided by vitamin A include reproduction; adrenal and thyroid hormone manufacture and activity; maintenance of structure and function of nerve cells; immunity; and cell growth.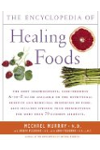 More About this Book
Encyclopedia of Healing Foods
From the bestselling authors of The Encyclopedia of Natural Medicine, the most comprehensive and practical guide available to the nutritional benefits and medicinal properties of virtually everything...